Cigar Rolling by Francisco Almonte
Experience the excitement of having a cigar roller at your next event or special occasion. Each of our rollers are from the Dominican Republic and has 20 or more years of professional experience
rolling cigars. They received their expert training on the Dominican Republic, rolling for some of the largest cigar companies in the industry.
Francisco Almonte (Master Roller and Master Blender) started working with tobacco at the age of 7, deveining leaves for his father in the family's living room. By the time he was 12 years old, Francisco was rolling cigars. Francisco had the unique opportunity to work under the tutelage of two of the world's most famous cigar makers, Mr. Carlos Fuente (A. Fuente Cigars) and Mr. Litto Gomez (La Flor Dominicana Cigars).
Today, Francisco celebrates 35 years in the premium cigar industry. He owns his own cigar factory, Tabacalera DBL Cigars and grows his own tobacco on his 25-acre farm, both located on the Dominican Republic.
Now Francisco brings his talent and craftsmanship to you.
Have us make your next event an unforgettable experience that will last a lifetime.
We can customize any service/package to fit your needs.
Below are the packages we offer. Please contact us for more information and pricing.
Contact Us For More Details
Cigar Bar:
Pre-rolled Cigars (50, 75, 100, 125, 150 or more)
Cutters, Lighters, Ashtrays
Cigar Host to Educate Guests and suggest pairings
Cigar Hostess to Cut and Light Cigars
Bronze Package:
Cigar Roller
Cigar Bar
Cigar Rolling Demonstration
50 Fresh Hand Rolled Cigars
Silver Package:
Cigar Roller
Cigar Bar
Cigar Rolling Demonstration
75 Fresh Hand Rolled Cigars
Gold Package:
Cigar Roller
Cigar Bar
Cigar Rolling Demonstration
100 Fresh Hand Rolled Cigars
Diamond Package:
Cigar Roller
Cigar Bar
Cigar Rolling Demonstration
150 Fresh Hand Rolled Cigars
Cigar Hostess to Cut and Light Cigars
Platinum Package:
Cigar Roller
Cigar Bar
Cigar Rolling Demonstration
225 Fresh Hand Rolled Cigars
Cigar Hostess to Cut and Light Cigars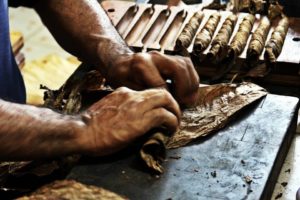 **Additional cigars available upon request
***Cigar hostess available with any package for an additional charge
Contact Us For Pricing & Questions